President Rodrigo R. Duterte on Monday thanked US President Joe Biden and the American people for donating Covid-19 vaccines to the Philippines.
"I would like to thank President of the United States, [Joe] Biden, the US government, and the people of America for not forgetting us," Duterte said in his Talk to the People.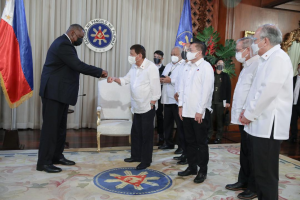 Duterte made the remark as he is set to personally welcome the arrival of 3 million doses of Moderna donated by the US government on August 3.
"Pasalamat tayo sa kanila. May naibigay naman ako (Let us thank them. I gave them) concession. I conceded to the continuance of the Visiting Forces Agreement (VFA)," Duterte said. "Do not forget us because we share, we share, the same outlook sa geopolitics dito (here), specifically, in Southeast Asia."
The Philippines has so far received 34,275,740 doses of Covid-19 vaccine and administered a total of 20,863,544 doses. Read More