By ROGER M. BALANZA
The municipality of Sto. Tomas in Davao del Norte has strengthened its battle against the Panama Disease, the deadly banana disease that has been wreaking havoc on the export Cavendish banana industry, one of the spark plugs of the town's economy.
Panama Disease, the most destructive plant disease that crippled the Cavendish banana industry in Panama in the 60s, is a perennial tormentor of banana farms in Davao del Norte, the Philippine capital of exportable, fresh Cavendish bananas, one of the country's top dollar-earning exports.
The disease resurfaced in Davao del Norte in 2019 and hit several villages of Sto. Tomas, prompting Mayor Ernesto Evangelista to launch massive information campaign on Panama Disease and provide technical assistance to banana plantations hit by the destructive disease, to contain its spread.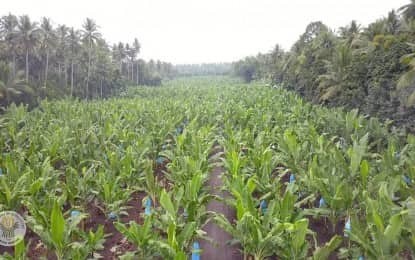 The town's added firepower to fight the soil-borne fungus also known as Fusarium Wilt came in the form of a P5 million fund from the Department of Agriculture to build techno-demo farms aiming to mitigate the impact of the disease.
Mayor Evangelista received the check on Wednesday, June 9, 2021, thanking DA Region Eleven Executive Director Ricardo M. Oñate, Jr. for the agency's support to all the programs and projects extended to the agri-sector of Santo Tomas.
The fund will be spent for the establishment of techno-demo farms project of the Municipal Agriculturist's Office (MAGRO) that aim to study the impact of soil rejuvenation for the rehabilitation of banana Cavendish farms infected by the Panama disease in the municipality of Santo Tomas.
Mayor Evangelista said his administration would now explore feasible options such as the establishment of techno-demo farms to help the banana growers.
It can be recalled that last June 23, 2020, Evangelista sent an endorsement to the Sangguniang Bayan asking for a legislation that would address the issues of price fixing, highlights best practices in pests and disease management, technology updates, maximizing benefits from trade and tariff agreements, and market standards compliance that would strengthen the local Cavendish banana industry.