Told to be more vigilant as the election season nears
By ROGERM. BALANZA
Radio broadcasters are in the crossfire of political violence during elections, and a Malacanang official warned against a spike in media killings with the May 2022 national elections only months ahead.
Undersecretary Joel Sy Egco, Executive Director of the Presidential Task Force on Media Security (PTFoMS), issued the warning following the killing of a radio broadcaster in Cebu City.
Reynante "Rey" Cortes, a blocktimer for radio station dyRB, was shot dead by motorcycle "riding in tandem" gunmen in Barangay Mambaling, Cebu City on Thursday.
PTFoMS is an inter-agency body created by President Rodrigo Duterte at the start of his term in 2016, to protect members of the press against violence and intimidation.
Egco reminded broadcasters, specifically blocktimers, to be more vigilant as the election season nears.
He said, historically, there is a spike in election-related violence committed against blocktimers as the election heats up, especially at the local level.
Blocktiming is the practice of buying "blocks" of air time to produce programs independent of networks and stations.
Egco has ordered Philippine National Police (PNP) investigators to thoroughly look into the case to find out if the incident was in connection with his blocktime program.
The PNP is one of the law enforcement agencies that comprise the PTFoMS.
Records of media killings in the Philippines show that most of the victims were blocktime radio broadcasters identified with political persons or groups.
The PTFoMS has already requested legislators to look into the practice by radio stations of selling time slots to the blocktime broadcasters, most of whom are not accredited by the Kapisanan ng mga Brodkasters ng Pilipinas (KBP), which police media ethics violations by broadcasters.
SY EGCO TO BARMM: ENSURE SAFETY OF MEDIA WORKERS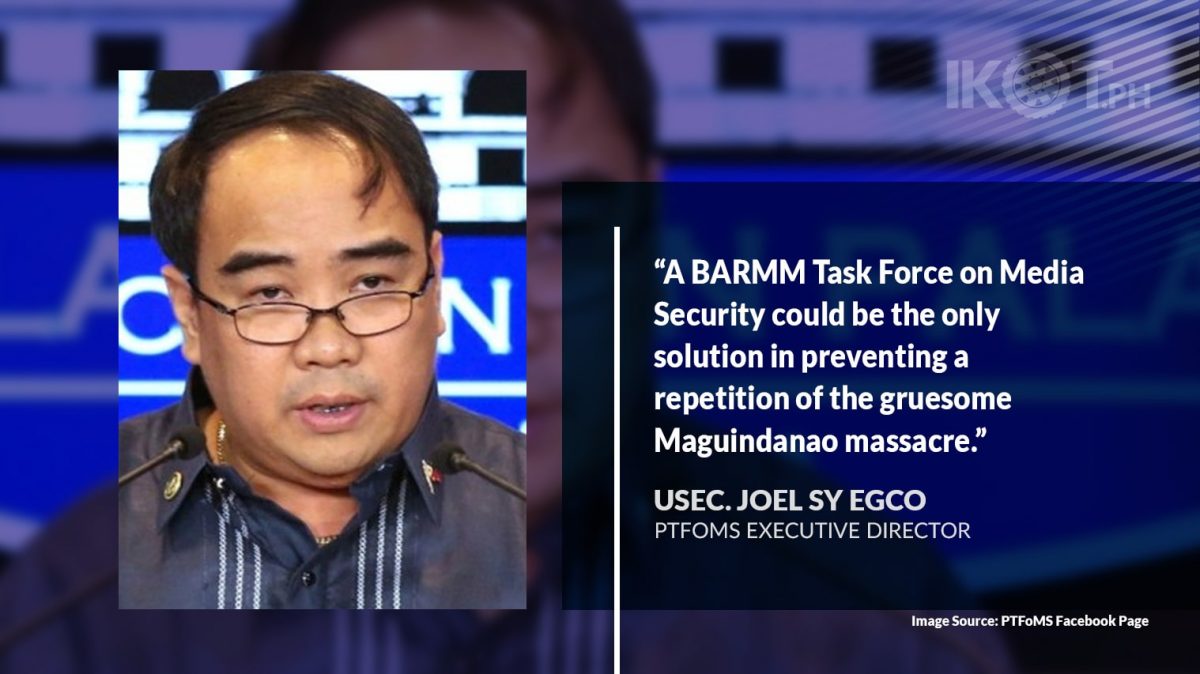 The Presidential Task Force on Media Security (PTFoMS) called for the creation of a regional counterpart in the Bangsamoro Autonomous Region of Muslim Mindanao (BARMM) to ensure the safety of media workers and prevent another Maguindanao massacre from happening again.
"I urge the Bangsamoro Region to create a counterpart Task Force of PTFoMS. The mechanism being implemented by the PTFoMS has been acknowledged by international organizations as an effective deterrent against media violence," PTFoMS Executive Director Usec. Joel Sy Egco said.
Sy Egco made this call during the oath-taking ceremony of the members and officials of the Bangsamoro Press Corps (BPC) held at the Shariff Kabunsuan Cultural Complex, BARMM Government Compound, Cotabato City recently.
He said "a BARMM Task Force on Media Security could be the only solution in preventing a repetition of the gruesome Maguindanao massacre that happened in 2009," referring to the incident in Ampatuan town that left 58 people dead, including 32 journalists.