Presidential spokesman Harry Roque has disputed an Inquirer.net report that quoted him as saying the Philippines does not own the Julian Felipe Reef.
Roque said he never said that the Julian Felipe reef is "not ours".
"We reiterate that the Philippines has claim – and has never abandoned our claim – over Julian Felipe Reef by virtue of a Presidential Decree (PD) issued by former President Ferdinand Marcos saying it is part of the Kalayaan Group of Islands," Roque said in a statement.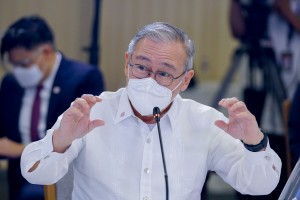 May 12, 2021,
MANILA – The Department of Foreign Affairs (DFA) said Tuesday its position on the Julian Felipe Reef issue remains "unchanged", ending the confusion where the feature lies – within the Philippine exclusive economic zone (EEZ)."At the moment, the DFA statements on the Julian Felipe Reef… Read More