Shoots down rumors about being ill
President Rodrigo Duterte has challenged critics to "pray harder" if they wanted rumors about his being ill or dead to come true.
"If you want me to die early, you must pray harder. What you would like to happen is to see me go. You want me to go and you're praying for that," he added.
Duterte on Monday night, in his TALK TO THE PEOPLE pre-recorded public address, dispelled rumors about being ill, saying he purposely decided to be out of public eye last week because he was busy reviewing and signing papers that involved "agriculture" issues.
As a 76-year-old, the President admitted that he suffers from several medical conditions, but noted that it was not enough to prevent him from exercising his powers as the country's highest elected official.
"Kung sabihin mo may sakit ako, may sakit ako. Pero kung sabihin mo may sakit ako ngayon that would prevent me from exercising the powers of the presidency, wala ho (If you say that I have a medical condition, I do. But if you say I have a medical condition that would prevent me from exercising the powers of the presidency, I don't have)," he said.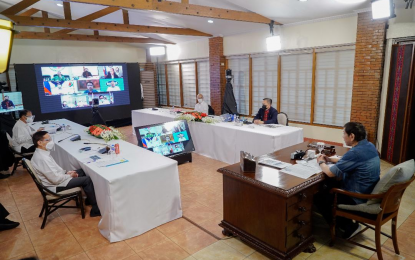 He also defended photos of himself jogging, playing golf, and riding his motorcycle at Malacañan Palace late night that surfaced the same week he skipped his public address.
"Kaya ako nakaka-swing ng golf tapos nagmo-motor kasi kaya ko pa (The reason why I swing my golf club and ride my motorcycle is because I can still do it)," he said.
Duterte said he saw nothing wrong with spending time doing hobbies such as riding his motorcycle at two o'clock in the morning since "it is not taking the people's time."
Despite spending the past week in his official residence in Malacañang, Duterte defended his previous trips to his hometown, Davao City.
"You know, the people must know that I am a resident of Davao City. I never pretended to be a resident of Sampaloc or Sta. Ana. Sinabi ko my residence is the City of Davao. And if I want to go home there on reasonable basis, I can because that is my home. Then, if I want to be unreasonable about it, talagang ang tawag sa Bisaya 'gara-gara', pangkantyaw, ginagawa ko rin 'yan (in Bisaya they call it 'gara-gara', I also do it)," he said.
He noted that the government does not spend a single centavo for any of his trips to Davao City.
Duterte, however, admitted that he missed the birthday of his daughter, Veronica, who turned 17 last April 10.
"I missed my daughter's birthday. Talagang hindi ako nakapunta doon because nagpipirma ako doon series of 'yong sa agriculture (I really wasn't able to go there because I was signing papers related to agriculture)," he said. (PNA)