By ROGER M. BALANZA
A missile-armed Chinese fast craft chased down on March 8 a Flipino TV crew in the West Philippine Sea (WPS) in the worst form of intimidation and aggression, committed by Chinese against Filipinos in Philippine territory.
The frightening experience of the ABS-CBN news team led by reporter Chiara Zambrano is the latest aggression by China in WPS, affirmed as part of Philippine territory in a ruling by the Permanent Arbitral Court. China is not recognizing the ruling of the international maritime court.
The incident happened as the Philippines and China are locked in debate over WPS, as hundreds of militia-crewed Chinese vessels moored in the area within the Philippines' Exclusive Economic Zone (EEZ).
Acts of aggression committed by Chinese in the WPS, that China claims as within its territory, includes intimidation of Filipino fishermen, destructive reclamation works and building of military infrastructures in the WPS islets and the illegal poaching of giant clams.
Zambrano and her news team were aboard a motor boat to check on the latest movements of China in the disputed seas when initially intercepted by a China Coast Guard vessel while approaching Ayungin Shoal.
Fearing for their lives, the team sped away for the Palawan mainland but they were chased down for an hour by missile-armed Type 022 Houbei fast attack crafts of the Chinese People's Liberation Army (PLA) Navy.
ates Araw ng Kagitingan (Day of Valor).Velasco likened the bravery and courage of health… Read More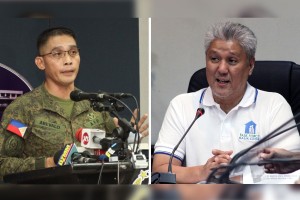 April 9, 2021
MANILA – The Department of National Defense (DND) on Friday has directed the military the investigate reports that a Filipino vessel carrying a news team of local media network ABS-CBN was chased by two Chinese missile boats off the West Philippine Sea."The Defense Department has directed the… Read More