Citing an existing defense treaty, the United States on Wednesday warned Beijing of Washington's obligations to protect its ally, the Philippines, against China's increasingly aggressive moves.
"An armed attack against the Philippines' armed forces, public vessels or aircraft in the Pacific, including in the South China Sea, will trigger our obligations under the US-Philippines Mutual Defense Treaty," State Department spokesman Ned Price told reporters.
"We share the concerns of our Philippine allies regarding the continued reported massing of PRC maritime militia near the Whitsun Reef," Price said, referring to the People's Republic of China.
Last month, the Chinese Embassy told US to stay out of issue of Chinese ships in West Philippine Sea, after it supported a demand by the Philippines for China to pull out more than 200 militia-crewed vessels moored on March 7 in the Julian Felipe (Whitsun) Reef.
The Chinese Embassy said that the US Embassy's statement on the presence of Chinese ships in Julian Felipe (Whitsun) Reef "undermine regional peace and satibility" and that the matter should be left to bilateral channels.
"The United States is not a party to the South China Sea issue," the Chinese Embassy said.
In a statement earlier, the US Embassy said it shares the concerns of the Philippines over the presence of more than 200 Chinese ships in the area. The Philippines has filed a diplomatic protest with China and has demanded that it withdraw the ships.
In its statement, the US Embassy said China "uses maritime militia to intimidate, provoke, and threaten other nations, which undermines peace and security in the region."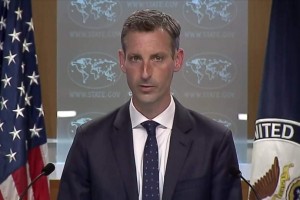 April 8, 2021,
MANILA – The United States government has called on China to abide by the 2016 arbitral tribunal award, as it reiterated its "strong support" for the Philippines amid the presence of Chinese vessels at the Julian Felipe Reef — part of the country's exclusive economic zone — and other parts… Read More