Foreign Affairs Secretary Teodoro Locsin Jr. on Sunday night said he fired off a protest over the presence of Chinese vessels at the Julian Felipe Reef (Whitsun Reef) in the West Philippine Sea.
Locsin filed the diplomatic protest following a report that around 220 Chinese militia ships have been moored near a reef in the country's exclusive economic zone (EEZ).
The coral reef is located northeast of Pagkakaisa Banks and Reefs (Union Reefs) approximately 175 nautical miles west of Bataraza, Palawan.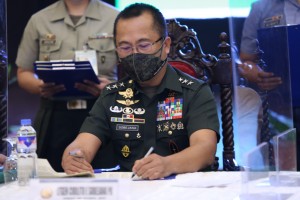 March 22, 2021
MANILA – The Armed Forces of the Philippines (AFP) continues to monitor the situation off Julian Felipe Reef (Union Reef) in the West Philippine Sea which is within the country's exclusive economic zone, due to the presence of Chinese militia boats, its chief said Sunday night."The reef is… Read More