DENR turns over care for protected areas, assets to BARMM
COTABATO CITY – Officials of the Department of Environment and Natural Resources (DENR) handed over the protection of assets, forest covers, and natural resources in areas now officially under the Bangsamoro Autonomous Region in Muslim Mindanao (BARMM).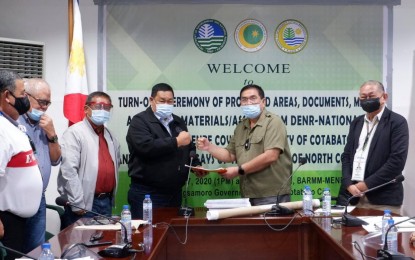 On Thursday afternoon, DENR Undersecretary Jim Sampulna of the Enforcement, Mining and Muslim Affairs Division, led the official turnover of BARMM environment field offices and assets in Regions 9, 10, and 12 to the BARMM's Ministry of Environment, Natural Resources, and Energy (MENRE).
The turnover included the DENR field office here and the assigned MENRE-BARMM office for the 63 villages in North Cotabato. This city and the 63 North Cotabato villages opted to join the almost 21-month-old region in a two-part plebiscite held last January and February 2019.
During the turnover, Sampulna said the DENR national office will continuously coordinate with the MENRE-BARMM for environmental and natural resources concerns of the region.
"We are willing to guide the administration of environmental and natural resources projects in the BARMM," Sampulna said as he cited the instruction of DENR Secretary Roy Cimatu for close coordination with the MENRE-BARMM.
MENRE-BARMM Minister Abdulraof Macacua, meanwhile, vowed to take good care of the region's natural assets. READ MORE