Top NPA official in Mindanao killed in Surigao del Sur
Police killed a ranking official of the New People's Army (NPA) in Mindanao after he allegedly tried to shoot it out with lawmen during an operation in Tandag City in Surigao del Sur early morning of Thursday. READ MORE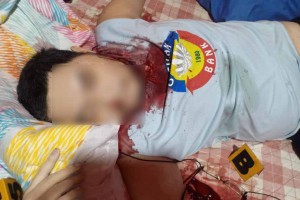 BUTUAN CITY – A high-ranking communist New People's Army (NPA) leader was killed during a predawn law enforcement operation in Tandag City, Surigao del Sur on Thursday, police officials said.Col. James T. Goforth, Surigao del Sur Police Provincial Office director, said National… Read More
POLICE DISPATCH
FOR: CPNP FROM: RD, PRO13 SMS Ref. No. 1120-1012227.
What: Service of Warrant of Arrest for 2 counts of Murder, Kidnapping and Serious Illegal Detention that resulted to shoot-out (with monetary reward of PHP6,000.000.00 under DND-DILG joint order of reward No. 17-2019 dated Jan. 20, 2020)
When: 1:15 AM, December 10, 2020 Where: Hermenias Resort, Purok Milion, Brgy. San Agustin, Tandag City, Surigao del Sur
Who: ALVIN LOQUE @Joaquin Jacinto, Member EXECOM KOMMID/ Former KOMMID Spokesperson
How: RID13; PIU & Tandag CPS all of SDSPPO; 401Bde, 4ID, PA; 3SFBn; 23IB; 30IB; 36IB; 26IB; 29IB; 65IB; & Team ISAFP personnel served the Warrant of Arrest against the aforementioned suspect with CC No. 13507, 4575 & 4611, upon approaching of the operating personnel, suspect saw them and suddenly fired his short FAs to the operating personnel, while his companion drew hand grenade prompting them to return fire that resulted in the instantaneous death of the subject person and his companion.
DISPOSITION: SOCO still conducting crime scene investigation while the dead body of the suspects and confiscated items were temporarily in the area of operation. During the search, SOCO initially recovered in the crime scene were;
a) One (1) Cal .45 pistol Remington 1911, chamber loaded with magazine and Cal .45 ammunitions
b) One (1) Fragmentation Hand grenade
c) One (1) 40mm HE
d) 500 rounds 7.62 ammos for AK47
e) One (1) blasting cap
f) One (1) battery
g) IED Firing mechanism and MOL15 meters electric wire
h) NPA Flags and
i) Subversive documents.