"If any country is excluded by reason of poverty or strategic unimportance, this gross injustice will haunt the world for a long time," Philippine President Rodrigo Duterte said in a pre-recorded speech aired before the UNGA's 31st Special Session on Friday, December 4.
"A poor country suffering from lack of access to COVID-19 vaccines would "completely discredit the values upon which the United Nations was founded," said Duterte. The Philippines is among countries hoping to get a supply of vaccines.
"We cannot let this happen. No one is safe unless everyone is safe," he said.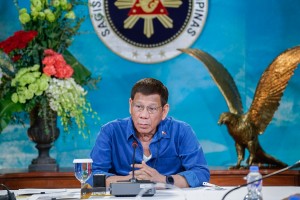 December 4, 2020
President Rodrigo Duterte has renewed his call for universal access to coronavirus disease (Covid-19) vaccine during his address at the United Nations General Assembly (UNGA), telling the international community that leaving poor countries out would be "gross injustice"."If any… Read More